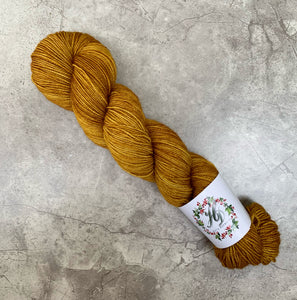 "I read somewhere once that souls were like flowers,' said Priscilla.
'Then your soul is a golden narcissus,' said Anne, 'and Diana's is like a red, red rose. Jane's is an apple blossom, pink and wholesome and sweet.'
'And your own is a white violet, with purple streaks in its heart,' finished Priscilla."-Anne of Avonlea

This deep golden colorway is inspired by the chapter A Golden Picnic. Anne Shirley has a magical day with her dearest friends out in the woods near Avonlea. Friendship for Anne was more precious then any gold or silver, and that warm emotion is captured in this vibrant colorway.