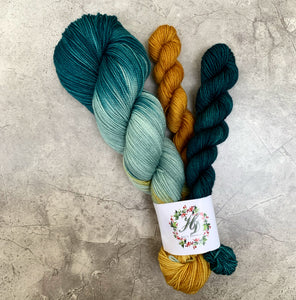 "I can't help flying up on the wings of anticipation. It's as glorious as soaring through a sunset... almost pays for the thud." -Anne Shirley/Anne of Avonlea

This colorway is inspired by the above quote from L. M. Montgomery's Anne of Avonlea. Anne Shirley was a character that felt every emotion deeply, and this yarn shows off the hope (gold) and the disappointment (teal and aquamarine). 
Set includes:
1. One full skein of Wings of Anticipation on Pine Twist Base or Fir Base.
2. Two matching mini skeins (one gold & one aquamarine) on Pine Twist Base or Fir Base.