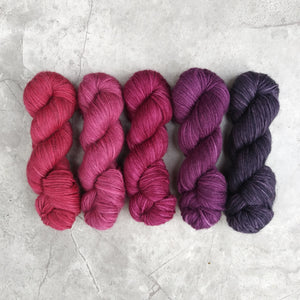 The Rebecca Mini Skein Set is part of the Rebecca Collection which is inspired by Daphne du Maurier's gothic novel. More than 80 years after it was published, Rebecca continues to attract readers who are captivated by the secretive mansion storyline and its first mistress. 
Each mini skein represents a different character from the book.
Mrs. Danvers (very dark purple), Frank Crawley (dark reddish purple), Maxium de Winter (deep wine red), Jack Favell (dark vermilion), and Rebecca de Winter (blood red).