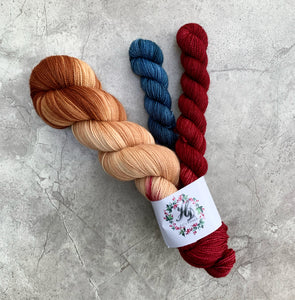 "The impossible could not have happened, therefore the impossible must be possible in spite of appearances."
~Murder on the Orient Express by Agatha Christie
This colorway is inspired by Agatha Christie's Murder on the Orient Express.

Sock Set includes:
1. Full Skein of Pine Twist-462 yards 
2. 2 Mini skeins of Pine Twist-92 yards each
Fingering Bases Available:
Pine Twist-75% superwash merino wool/25% nylon (462 yards/100 g)
Preorders will take 3-4 weeks to fufill from order placement.